No.4
" I.S House "
Apr 2005 opened to the public
Nov 2008 revised
Nov 2016 republished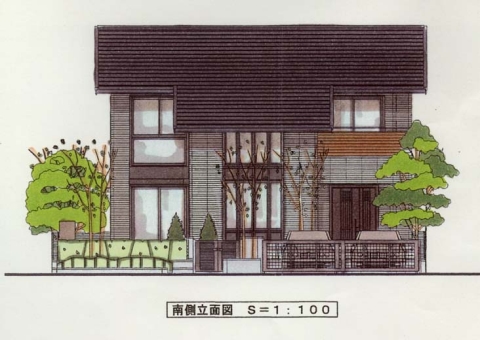 South Elevation
I introduce the house of the customer who built the house in new land. But this customer annoyed it from the person in a house next door the day before when construction started. And, the customer had to change land suddenly. However, the plan before it changes is what I also was looking forward very much. Therefore, I introduce the plan here.

Families are three people (the married couple and the only son). They determined to live in new land though they had lived in the company house up to now. The husband is an engineer of the machine. Therefore, he was very interested also in construction and the structure. Our meeting was very happy. He faxed me often making the plan by himself.

Therefore, the plan became very wonderful. As for the plan, the outside of the house and the inside became unique and reasonable. Of course, a basic performance in the building is wonderful. And, it made it to cheapness. I was pleased with the customer. "A good plan can have been done."
 
The house is made around the stairs. This house gives the family the easiness of life to do. Moreover, privacy and common space unite well. I think a very good house.

This consequential plan was not achieved. However, this house is one that remains in memories for me.

I introduce it. Please see.
(Architectual Memo)
Title :
I.S House
Location :
Okegawa city Saitama ken Japan
Site area :
211.24 meter square
Total floor space :
123.89 meter square
Cost :
30 million yen
Completion :
August 2002 (another plan)
Family make-up :
Couple
One child(junior high school)
This house was completed in August 2002 by another plan. I will introduce it with "Example collection" and "Photo collection" later.
Example Collection