No.6
" House in Shakujii "
Jun 08 2006 opened to the public
Nov 09 2008 revised
Nov 2016 republished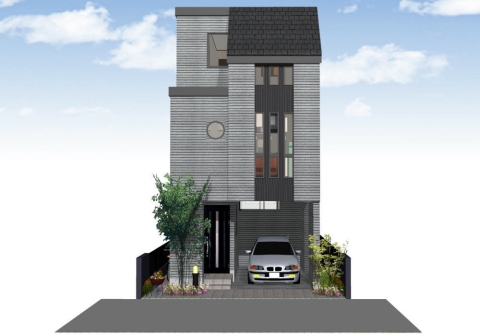 Main Elevation
The design in Tokyo is after a long time for me.

The population of Tokyo is 12.5 million people.
The building has been very overcrowded to Shakujii in Tokyo. The size of this site is 82.56 slightly. The width of the road in front of the site is 4m.

Do you understand how it to be narrow?

Of course, there is a big site in Japan, and are a lot of narrow at the same time sites.

I introduce the house in Japan that builts in this narrow land.

As for you, can Japan live?

I want to have knowledge about circumstances of the foreign country.

I am waiting for your opinion.
(Architectual Memo)
Title :
House in Shakujii
Location :
Shakujii-cho Nerima-ku Tokyo
Site area :
82.56 meter square
Total floor space :
110.55 meter square
Cost :
22 million yen
The logo in the board is old logo of this site.
Example Collection