No.8
" Court House 4 "
Oct 10 2007 opened to the public
Oct 11 2008 revised
Nov 2016 republished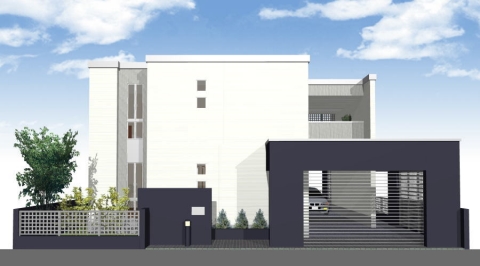 Elevation
I introduce the fourth Court house.

This house was planned by me in Sapporo City. The customer in this house was examining it in some housebuilders. However, he was interested in this special shape. And, he contracted to us.

This house is a start of his residence. But, the house greatly finally changed shape for a lot of other elements. And, a present construction work builds the house of another shape.

My homepage has introduced Courthouse. Therefore, I introduce this plan.

Courthouse has the courtyard. It interrupts the outside. As family's private Garden. Door Clhit is entertained. I feel the family's existence. Family's few Japanese agree comparatively to this idea.

The window where it faces the court is enlarged. The height of the floor in the court is done as well as the indoor floor. The space of the court becomes a part of the indoor space.

The limited indoor size becomes wider. Moreover, the court leads light and the wind to the house.

The idea of this house exists as a house in Japan, a house in the city.

The plan to introduce is being improved by me. I added the correction as a house where I live.

I expect the drawing to help your understanding.

Please see.

I am waiting for your opinion and impression.

Thank you.

October 10 2007
(Architectual Memo)
Title :
Court House 4
Location :
Sapporo city Hokkaido
Site area :
226.63 meter square
Floor space :
Total floor 143.87 meter square

First floor 72.87 meter square
Second floor 71.00 meter square
The logo in the board is old logo of this site.
How about Courthouse?
This house is a modern house. However, there is a feature of the house in Japan, too. When you see the house in Japan, you might understand the Japanese.
I want to see the house in your country. I am waiting for speaking your house.
Example Collection