No.2
" Y.T House "
Jun 10 2005 opened to the public
Nov 2016 republished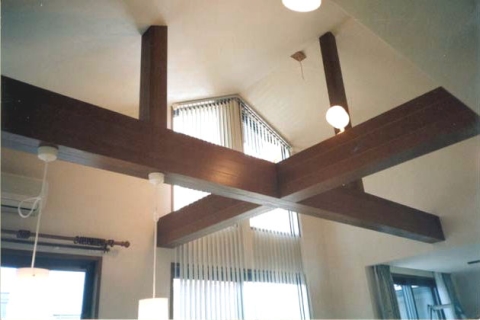 Y.T House
"I want to do to the roomy house brightly."

The customer said such a demand in the first design consultation association.

This region cannot build the building of great dimensions. There is a limit in the size. And, this site is small. Therefore, I tried to widen the space in the sight.

To widen the house, I thought about some devices. This house has living in the second floor. Moreover, the space of the attic is used. Moreover, the window was set up on the wall of the boundary in the stairway and the living room. This window connects two spaces, and makes a wider space.

Please see.
(Architectual Memo)
Title :
Y.T House
Location :
Kawaguchi city Saitama ken Japan
Total floor space :
140 meter square
Cost :
30 million yen
Completion :
July 2001
Family make-up :
Cuple
Two children (Boy:18, Girl:16)
Photo Collection