No.4
" Y House in Urawa "
Jun 10 2005 opened to the public
Nov 2016 republished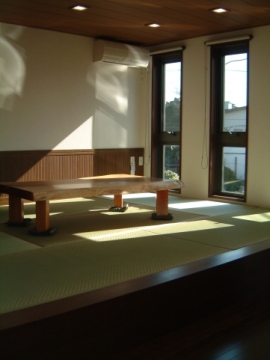 Y House in Urawa
This photograph collection is a house of the third floor.

It took one year or more to make arrangements having started in the summer of 2001 until completing.

This customer is a carpenter. He chiefly constructs the structure, the outside wall, and the roof. He is always looking at the house, so he knows about the house very detailed. And, he especially stuck to externals and equipment about the house of him.

The house of the second floor was planned first. However, his site was very large, and the place was popular. Therefore, he decided to build the apartment together. Rents are about 1000 US dollars a month. And, the income of about 3000 US dollars a month is obtained because there are three families. He felt the charm in the income.

The building is dynamic as the house.

Please see.
(Architectual Memo)
Title :
Y House in Urawa
Location :
Saitama city Saitama ken Japan
(old Urawa city)
Total floor space :
430 meter square
Cost :
65 million yen
Completion :
January 2003
Family make-up :
Cuple
Two children
Photo Collection