No.6
" House in Fukiage "
Nov 8 2007 opened to the public
Nov 2016 republished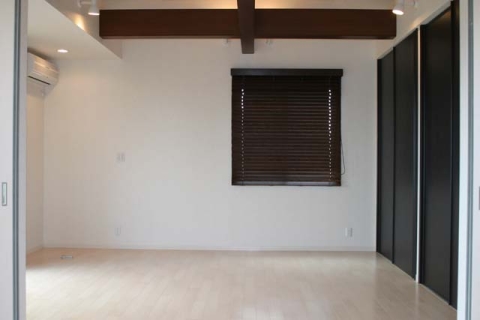 House in Fukiage
The grandmother cohabits with a young couple in this house. There are a lot of houses where parents and the child married couple live together in Japan, too. I show the case.

(The following sentences are the translations of the one published in a Japanese version in September, 2003.)

I introduce the house in Saitama Prefecture Konosu City Fukiage.

Meeting with this customer started in July, 2002. Their ideas had divided by the man and the female in the family. The husband who has the knowledge of construction regards stylish style. On the other hand, the female thinks about a reasonable, functional house. These two ideas existed for a long term.

This meeting that had started in summer decreased in autumn. I did not think that this house was started constructing.

However, it had a telephone call from the madam in November. She said me the hope of you uniting husband's idea and my idea and making the plan.

And, meeting started again.
We contracted formally last December.

The completion will introduce this house though next month. This house has been almost completed now.

Please see.
(Architectual Memo)
Title :
House in Fukiage
Location :
Fukiage Kounosu city Saitama ken Japan
Total floor space :
180 meter square
Cost :
40 million yen
Completion :
October 2003
Family make-up :
Grandmother (60 years old)
Husband (33 years old)
Wife (33 years old)
Daughter (Months of three after one's birth)
How is this house?

We learn one of the cultures of the country by seeing the house. An of course recent style is modern. But, partly the culture of the country appears there. And, I want to learn the culture in your country. I will take your culture to my work. Because I want to build a good house.

Thank you.
Photo Collection