No.5
" House in Nerima "
Oct 8 2009 opened to the public
Nov 2016 republished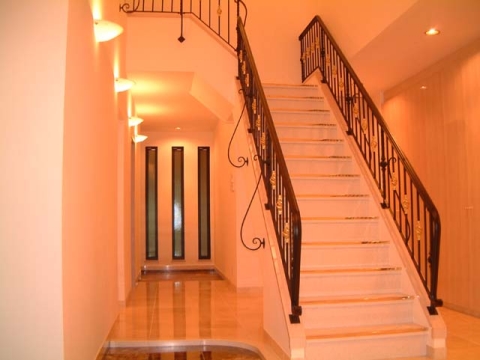 House in Nerima
The Japanese likes style of Europe and America for a long time. This is from samurai's age.

In this house, there is no style of Japan. The style of only Japan is take off shoes in this house.

Moreover, the floor in this house is made from the marble of Greece. The marble is very expensive in Japan.

The cost of the house is 100 million yen.

Please enjoy the magnificent house.


This work has the Example collection. You can see the plan of this house.

Example Collection "House in Nerima"

(Architectual Memo)
Title :
House in Nerima
Location :
Nakamura Nerima-ku Tokyo Japan
Site area :
293.16 meter square
Floor space :
Total floor 247.02 meter square

First floor 148.40 meter square
Second floor 98.62 meter square
Cost :
100 million yen
Completion :
May 2002
Family make-up :
Cuple
Two children
Photo Collection